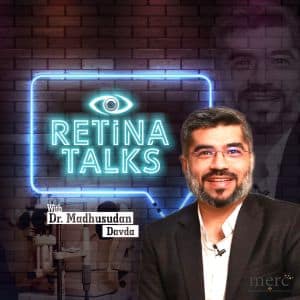 Best Retina Specialist in Mumbai
MD(AIIMS),FMRF(SANKARA NETHRALAYA) CONSULTANT VITREO RETINAL SURGEON
Dr Madhusudan Davda
Mumbai eye & retina clinic was conceptualized as a super specialty retina care center by retina specialist Dr. Madhusudan Davda, a vitreoretinal surgeon with more than a DECADE of exclusive retina practice.
Dr. Madhusudan Davda is a post graduate in ophthalmology and specializes in diseases of the posterior segment of the eye.
He is a graduate (MBBS, 2003) from Seth GS Medical College and KEM Hospital, Parel, Mumbai.
He has done his post graduation in Ophthalmology (MD, 2006) from the prestigious All India Institute of Medical Sciences(AIIMS, New Delhi), the apex institute for ophthalmic training in India.
He was one of the youngest in his batch to complete post graduation.
He was always inclined towards and fascinated by the posterior segment eye diseases and decided to pursue a full-time fellowship in Clinical Retina from Sankara Nethralaya, Chennai(2008).
He simultaneously passed the Diplomate of National Board (DNB) examinations and the basic and clinical science courses of the International Council of Ophthalmology (FICO)
He has been in clinical practice for over 10 years and has a keen interest in the diagnosis and management of Diabetic eye diseases and Age-Related Macular Degeneration (ARMD).
He has already performed over 3000+ laser procedures and over 1000+ intravitreal injections for the same. All the injections are done under topical anesthesia and are absolutely pain-free.
He is also proficient in the management of surgical retinal conditions like retinal detachment, vitreous haemorrhage and macular surgeries. He also has a keen interest in Micro Incisional Vitreous Surgeries (MIVS)
Retina Specialist Dr.Madhusudan is a firm believer that medicine is an ever-evolving branch and one needs to be constantly updated with current knowledge and management protocols.
He is a member of most ophthalmic societies like the All India Ophthalmologic Society and Bombay Ophthalmic Association and an active participant at the most annual meeting.
He has also attended various international conferences like the World Ophthalmology Congress. He is also actively involved in ophthalmic research and has many publications in peer-reviewed journals.