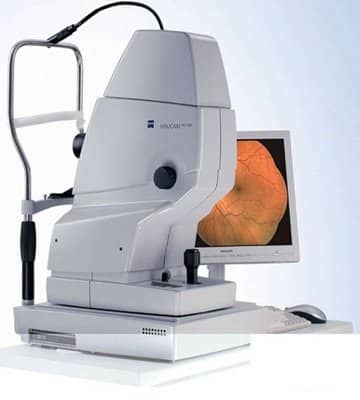 Retinal Imaging
Optical Coherence Tomography
(OCT):
OCT (Optical Coherence Tomography) uses LASER TECHNOLOGY to produce cross-sections of the retina. The details can be seen in microns (1000th of a millimetre)
At MERC we have the PRIMUS 200 from Carl Zeiss Germany, with its PATENTED TECHNOLOGY like Selective PixeL Profiling TM, Auto FoveaFinder TM, and AutoCenter TM.
Accuracy at its best!
Fundus Fluorescein Angiography
(FFA):
VISUCAM 500 from CARL ZEISS, Germany, provides high-quality retinal (FUNDUS) and OPTIC NERVE images that are considered STANDARD worldwide.
Fundus fluorescein angiography (FFA) – a test to study the easy circulation of blood in the eye and retina. It is done by injecting a small quantity of a dye called sodium fluorescein into the vein of the hand, which then reaches the retina through the blood.
 It is the GOLD STANDARD to study retinal circulation.
ICG
Angiography:
ICG Angiography – "Mumbai Eye & Retina Clinic" is probably the ONLY CENTRE in the central MUMBAI and NAVI MUMBAI to offer this highly specialised & complex test for studying age-related macular degeneration
Unlike FFA, the ICG angiography uses a special dye called Indocyanine Green, which is helpful to study the CHOROIDAL CIRCULATION (structures deeper to the retina)
 It is a must to diagnose variants of ARMD like Polypoidal Choroidal Vasculopathy (PCV), a condition that can cause massive bleeding and Occult CNVMS and RAP lesions(Retinal Angiomatosis Proliferans).These conditions are often misdiagnosed due to lack of proper investigation, ICG angiography helps to clinch the diagnosis in such cases.