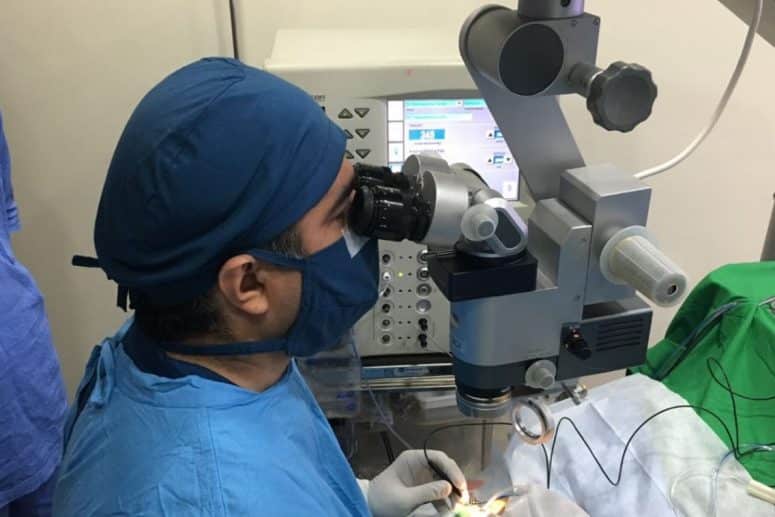 Surgical Retina
The surgical retina is a broad terminology for diseases of the vitreous and/or retina for which the primary management is vitreoretinal surgery
In addition, some medical retinal conditions may eventually need surgery.
many of the surgical retinal conditions are emergencies and the doctor may advise surgery at the earliest. however, there is no need to panic, as a majority of them can be managed well with modern day vitreoretinal surgical techniques.
for conditions like retinal detachment, intraocular infection (endophthalmitis), posteriorly dislocated/ dropped nucleus/retained lens matter, time is the essence. prompt surgical intervention is the only way to save vision in these patients.
Common surgical retina conditions:
Vitreous haemorrhage
Epiretinal membrane/macular pucker
dislocated cataract fragments/intraocular lens with IOL implantation
Surgical Retina Suite:
Majority of patients get anxious/nervous when they hear that they need a retinal surgery. some would even get a panic attack. however, there is no reason to be afraid of. with modern surgical techniques majority of the patients with even serious retinal diseases do extremely well, if operated on time
In today's practice, vitreoretinal surgeries are all "daycare" surgeries and patients can go back home the same day. there is no need to get admitted overnight.
Typically the patients are called half hour before surgery and can leave the clinic within an hour post surgery.
Many retinal surgeries would require the patient to maintain a postoperative head posturing. This is not unusual and is an important step in the whole process of recovery.
The commonest position usually advised is "prone" position or the head down position. Depending the type of surgery patients may be advised postoperative positioning for 2 days to 2weeks.
The stricter the positioning, better is the surgical outcome.
Essential equipment for retinal surgery is a high-quality microscope, an advanced vitrectomy system, a wide-angle viewing system.
"Mumbai Eye Retina Clinic" is equipped with a high-end microscope from Takagi, Japan which enables your doctor for clear visualisation of the various structures for smooth and successful surgery. The microscope connects to a wide angles viewing system called the "BIOM". At Mumbai Eye Retina Clinic we have the best in class "Oculus BIOM" from Germany. This allows high definition viewing of the retina and increases the field of view for precision manoeuvres so that nothing misses the eye of your doctor.
Last but not the least is the advanced vitrectomy system, the core of a good vireo-retinal surgical suite.
It is this machine which is used to perform various procedures during the surgery like cutting the vitreous, injection or removal of different substances into the eye like oil/gas/air.
A good & reliable vitrectomy is the key to success in many a surgeries.
At "Mumbai Eye Retina Clinic" we have the highly advanced micro-incision vitrectomy system (MIVS) from ALCON, USA with very high precision control and reliability to tackle the most difficult surgeries and any situation that may arise intraoperatively.